3 Steps to Building a Highly Successful Video Marketing Strategy
Videos are highly consumed today, let's quickly look at the numbers, the total number of daily users on Youtube is 30+ million, that's a huge number and the number one type of content that performs on Facebook again is video, there are no brownie points for the right guess. Viewers are expecting, businesses know that they need to produce it, and marketers are finding it a big huddle to produce it. The biggest reason is that it's daunting, this quick guide post is here to help you walk you 3 steps to building a highly successful video marketing strategy, making it a breeze for your team and you.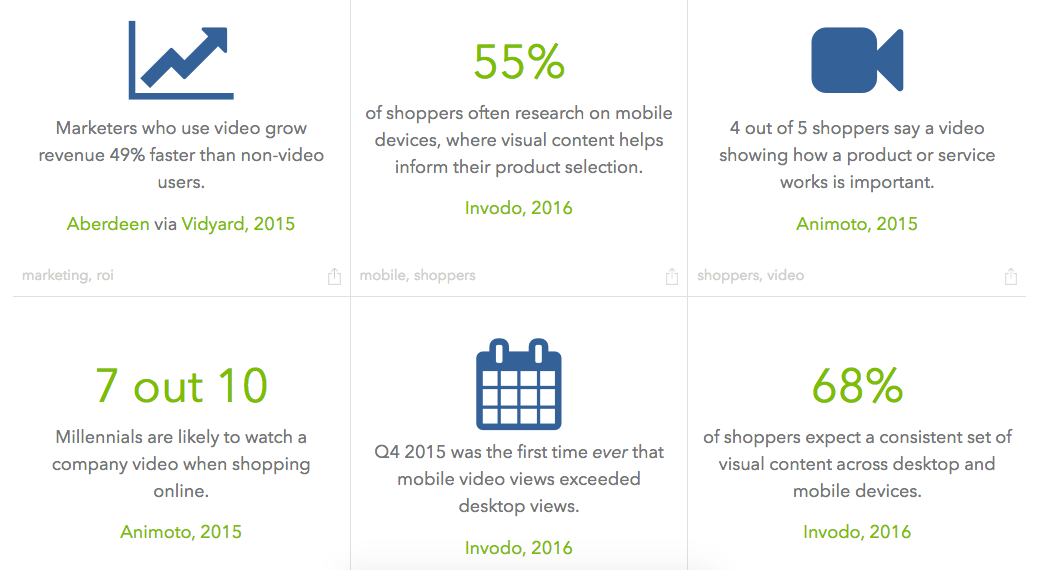 Step 1: Have a clear goal in sight and maximize your leverage
While running video campaigns on the things we have noticed often is how companies are focussed on the production and usually lose sight of the goals. Start with a clear goal. So where do you need to focus on now? Is it generating leads, or generating demand, or is it getting the right quality of sales qualified leads or is your website having tons of traffic but too little clicks on the CTAs (Call to Action) or is it about nurturing leads?
For example, if your market qualified leads are not converted into sales qualified leads, a great place to start would be to offer more educational material that will help your prospect to learn more about the solutions and how your solutions is a great fit for their needs.
Once you have a clear goal in sight, see what resources or ideas you can immediately implement that is within your reach. Remember it's your best leverage, could a case study with a client endorsing help through a video or perhaps walking them through use cases of your product for a specifically targeted industry could land more footfalls. Too often we see companies resorting to copying their competitors, which is not great at all because they are essentially operating from their leverage and you too are flowing with their leverage. Building a Highly Successful Video Marketing Strategy requires a lot more planning and careful ideation that's orginal.
Here's a great example – Databox:
Once you have clear goals and leverage you need to get to know what's the top metric to track, this is also known as One Metric That Matters.
It could be:
Traffic to the website
Visitor conversions
Free to premium conversions
Awareness/reach about your product
This metric is what you are optimizing your whole marketing campaign for.
Step 2: Tell a powerful story, and plan your video production
Stories are powerful, Donald Miller from Storybrand says: "A story is based on what people think is important, so when we live a story, we are telling people around us what we think is important." Stories move people, it's not a conjured version of what we want to communicate rather it's an authentic and real form of communication. Building a Highly Successful Video Marketing Strategy weaves into the whole idea of storytelling.
Start with a powerful narrative and hook and show people the usefulness of your solution.
Here are 6 powerful steps to draft a compelling story:
Have a basic premise
Define the scenes
Introduce characters
Write a complete outline
Align characters with outlines and scenes
Have a powerful climax
Eg: How a hero (your product/service) wins over a villain (pain point in the industry you are targeting)
The hero lives a simple normal life but is suddenly one day fired from the company, and is sad, angry, frustrated and anxious about next move, meets his friend who then talks about being relevant and updated with today's skills and introduces the hero to your solution, hero signs up on your career app and your career app helps him learn Python in 3 months and helps him develop a solution that he uploads on Github and how an emerging startup notices the quality of code and offer him a great role in the company. The hero gains confidence and is happy but refuses the offer because he has bigger ideas in his mind (Ends with mystery)
Now the next aspect of production is crucial, video production is not as easy as it seems there is complexity
If you're doing a series of explainer videos around a product, you'll need some screen recording software. Loom videos do a great job of recording screens. Audio and even basic video can be captured if you have a computer with an internal or external camera and mic.
That's the simplest bootstrapped version. If you want a more scalable video production, here's what you can do
1. Hire an external production agency:
A professional production agency can lift the whole burden off your shoulders, they will help right from ideation to production, its the best way to get started, but yes hiring a production agency will incur a cost, therefore you will have to calculate the ROI of video and see if it works for you.
2. Hire a freelancer:
Fiverr, Upwork and many other sites can help you find a good freelancer who can help you with good video production, finding someone local and with multiple capabilities might be a challenge. But if you have good references then it's a great way to go about it.
3. Hire a video producer:
Get a person in-house, only if you plan to produce at least 2-3 videos a month, otherwise it might not be feasible, you will also incur a one-time cost of equipment and software.
Example: NatGeo
Step 3: Plan your hosting and set metrics that you want to measure
For B2B marketers, data is key. Most video hosting platforms give some level of data on video performance.
Some of the most popular options for hosting your amazing videos include:
YouTube: Youtube is a great and free choice. It comes with customized business channels, monetization, and synchronization with Google Analytics, however, it might not necessarily be suited for a business hosting setup.
Vimeo: A great alternative to YouTube, Vimeo offers far more capabilities in the paid version – The free version gives a limited amount of uploads per week and a limited set of analytics. Pro accounts can access unlimited uploads, more advanced analytics and even video CTAs.
Wistia – Wistia has many functions, but some of the main features include in-depth reports covering everything from individual view time, sections that were watched or skipped and viewer location. The reporting is robust.
What you should measure and care about:
Views
Watch Time
Average completion time
Audience retention
Re-watches
Click through rate
Feedback
Top location and audience
Play rate
Social sharing
Bounce rate
I hope and believe that the  3 Steps to Building a Highly Successful Video Marketing Strategy is something you can apply in your context and see results for yourself.